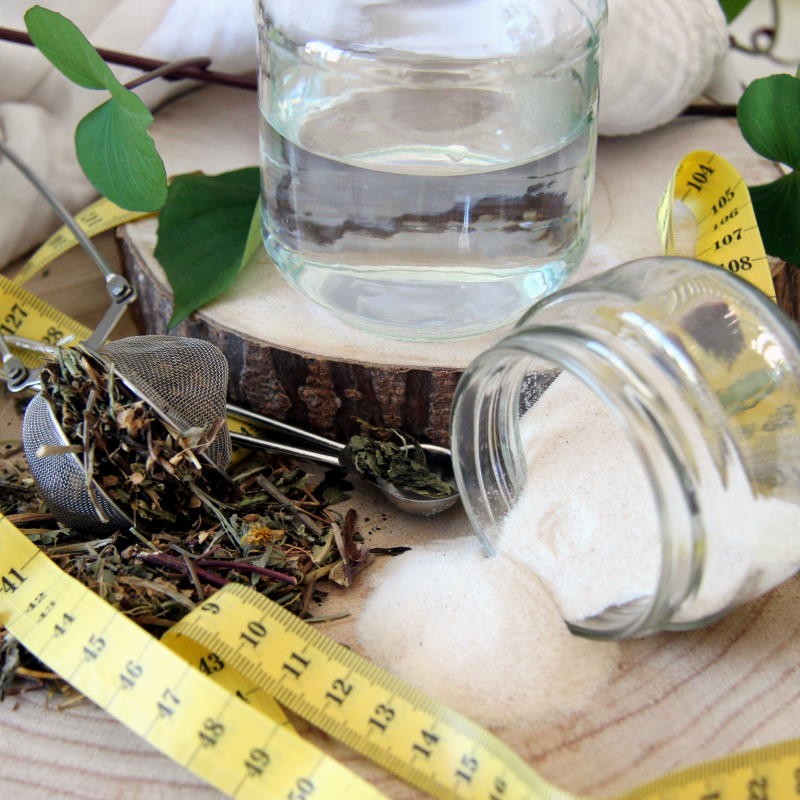  
Extension - Special Pack
MORE SATIETY - LESS HUNGER - FAT BURNER 


If you like our "Detox" then we have the right product for you!

Extension - Special Pack composed of Slimming Mezinha combined with Konjac and Gymnema.
Continue your fat loss regimen, burning and filling with our ingredients specially chosen to integrate this Pack.
DISCOVER OUR HERBS
Red Tea and Ginger, with their fat burning effect, help to maintain a slender body. They also contribute to a feeling of more energy.
Dandelion is well known as deflating, purifying and detoxifying herb.
Peppermint, in addition to its pleasant flavor, promotes a smooth belly.
Konjac contributes to the feeling of satiety.
Gymnema helps control cravings, especially for sweets foods.


Slimming Mezinha 
- Red Tea (C. sinensis) (leaves) – 72g
- Ginger (Z. officinale) (root) – 40g
- Peppermint (M. x piperita) (leaves) – 12g
- Dandelion (T. officinale) (aerial parts) – 20g
Total of 144g


Preparation of the Slimming Mezinha 
Infuse 2 full tablespoons of the herbs, for about 5 minutes, in 700 ml of boiled water.
You can prepare and store in the fridge, or put in a bottle and drink throughout the day.
Because it contains caffeine, it is not recommended to take it after the end of the afternoon.


Suggestion for using Konjac
Dissolve a teaspoon of Konjac in a large glass of water, take 30 minutes before the 3 main meals.


Konjac Precautions
Separate the consumption of this supplement with medication into 2 hours;
Taking this product without enough liquid may cause choking;
Do not take the product if you have difficulty swallowing;
It is recommended to take the product with plenty of water;


Suggested use of Gymnema
When preparing the Slimming Mezinha add another tablespoon of Gymnema.


Precautions
Due to the stimulating effects of the caffeine present in Red Tea, we do not recommend taking this suggestion in the case of sensitive people.
It's not recommended in serious cardiac patients, especially those suffering from arrhythmias. It can trigger anxiety in predisposed people.
The "water out" effect of this herbal mix may interfere with patients with severe kidney or heart conditions, so you should consult your doctor before taking it.
You should first consult your doctor if you are taking antidiabetic drugs and insulin.
The suggested combination is not recommended for children, during pregnancy and breastfeeding.
Keep out of the reach of children;
The recommended daily intake should not be exceeded;
This product does not replace a varied diet.
Where is the store located?
Our store is located in the city of Faro (Algarve) - Portugal, for more details access the map.


How much will I pay for shipping?
For orders with a total value of less than €25, there is an additional €3.95 for shipping costs. For orders with a total value of more than €25, the shipping cost is on us.


How long does it take to receive the order?
Delivery usually within 1 business day. More details in Delivery and Transport.


Do you ship to the Islands or other countries?
Currently, we are only delivering to mainland Portugal.


What types of payment are accepted?
At the end of the order, the customer can choose to pay via Mbway (need to authorize the payment in less than 5 minutes) or by ATM reference (maximum of 3 working days).
Conservation Conditions
Store in a cool, dry place, protected from light and moisture.


Notes
Medicinal plants are sold in bulk in the quantities indicated in the name and description of the product.
When combinations are suggested with the designation "Mezinha", the medicinal plants as a whole are invoiced individually, according to the varieties and quantities presented.
For practical reasons and the preservation of the environment, as a rule, the medicinal plants indicated in the "Mezinhas" are dispensed in bulk, together, wrapped in paper and inserted in a kraft paper bag.
Any interest in changing the composition or quantity presented, such as, if you want the medicinal plants to be dispensed separately, you must inform us.
Delivery in mainland Portugal usually within 1 business day. *


* Delivery takes place through NACEX carrier, usually between 20H to 30H, after payment confirmation.


Not applicable when payment is made after 11.00 am on Thursday, in which case delivery will most likely only occur at the beginning of the following week.


International delivery, usually within 3 business days. *
Delivery time tends to vary depending on the time of payment for the order, our workload, and the occurrence of unforeseen circumstances on the part of the carrier.


Sent from our Ervaria in Faro (Portugal).


More details in Delivery and Transport.
We are committed to the quality of our Mezinhas.


As such, if you are not satisfied with the herbal blends, we will refund your money.*


*Only applicable to products designated as "Mezinha" (combinations of herbs sold in bulk), present in packs and/or sold separately, after their return.


The refund does not apply to the value of: sending the order, returning the order by the customer, or other products that may be associated with the same sale or associated pack.


Only valid on 1 unit of "Mezinha" for each commercial designation.


For example: if you bought 2 or more "Mezinha Relax", you will only be refunded in case of dissatisfaction - 1 unit.


For more information see the general conditions.
Customers who bought this product also bought:
recommended products:

you may also like: